The History of South West Durham Training
---
How it all began
South West Durham Training was a product of the 1964 Industrial Training Act. Poor training had been blamed for Britain's relatively lacklustre post-war economic performance and the problem looked set to escalate when the children of the post-war baby boom left school in the 1960s.
The Act placed levies on larger companies and the money was given back to those who agreed to take on apprentices. It was a simple but very effective method of ensuring the factories, mines and railways could draw upon a steady stream of skilled labour. A group of the larger companies in the Darlington and Aycliffe area, including Underground Mining Machinery (UMM), Chrysler Cummins Engines, Torrington Bearings, Darchem and Toledo Woodhead Springs, joined forces to set up a new training centre that would provide them with state-of-the-art training facilities. With training board backing a centre was built at Aycliffe, staffed by skilled craftsman and overseen by an unpaid executive council of local company directors.

The official opening
The official 1967 launch event took place on 15th December 1967, WWII RAF fighter ace Sir Douglas Bader was guest of honour and performed the opening ceremony.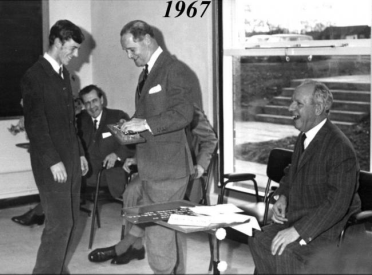 The team setting up the centre had approached Sir Francis Chichester, fresh from becoming the first solo yachtsman to circumnavigate of the world, to cut the ribbon. His unavailability saw Brian Bean, one of the centre's first instructors, draw on his RAF connections to call on another war hero for the grand opening.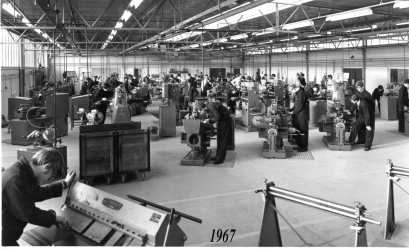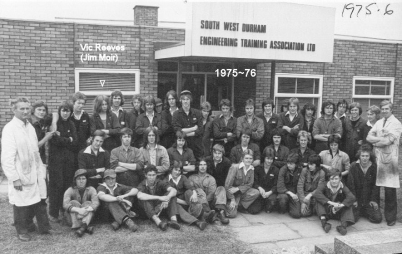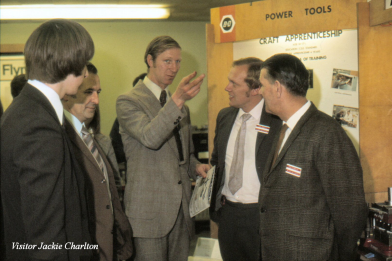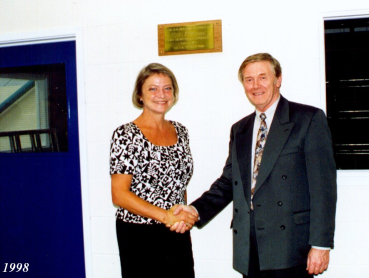 Brian, who worked for 32 years at the centre, knew from his National Service days James "Ginger" Lacey who, during the Battle of Britain, shot down one of the bombers that had attacked Buckingham Palace. Through him they persuaded Douglas Bader to come up!

The centre was extended in 1969 and again in 1975 in response to growing demand from local companies, when it was visited by North-East football legend Jack Charlton. By the late 1970s it was turning out more than 200 apprentices every year.
In 1994 Nissan managing director John Cushnaghan opened a new extension which doubled the size of the centre and provided a new area for electrical and mechanical maintenance training and the first fork lift training bay.
In 1998 due to demand for material handling training a new extension was opened by BBC reporter Kate Adie. In 2011, in a bid to keep up with the demands of advanced manufacturing, a £3.6m high-tech extension was opened.

"World class" accreditation
SWDT was the first training centre in the country to gain Centre of Vocational Excellence status. The Chief Inspector of Adult Learning in his annual report that year described SWDT as 'world class'.

In 2014 Ofsted graded SWDT as 'outstanding' in all four areas: overall effectiveness, outcomes for learners, quality of teaching, learning and assessment, and effectiveness of leadership and management. It was the first member of the Group Training Association of England ever to have received an outstanding grade across all areas of provision.

This year - 2014 - also saw SWDT enter into a strategic partnership with Bishop Auckland College.
50th anniversary celebrations
In December 2017 BBC Breakfast presenter Steph McGovern praised the work of South West Durham Training in preparing the young engineers of the future as she led celebrations for the centre's 50th anniversary.
Recalling her time at Black & Decker in Spennymoor under the Year in Industry scheme as a teenager, the Middlesbrough born business journalist hailed the value of apprenticeships to industry to her audience of employers and past and present students and staff.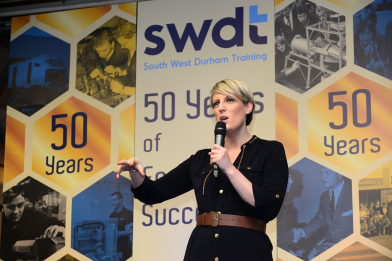 It was this placement which ultimately led to her big break in television, as Steph won a Young Engineer for Britain competition aged just 19 for an injection moulding process innovation for the firm's garden leaf sweeper and blower. The award saw her invited to appear on a TV programme about women in science, before securing a position as a part-time researcher on BBC's Tomorrow's World while studying mechanical engineering at London's Imperial College.
Today Steph hosts a range of programmes including Channel 4's Steph's Packed Lunch and BBC1's Shop Well For Less.
Presenting end of year awards to apprentices at the 50th anniversary celebration, she said: "I have broadcast from over 800 businesses in the UK and one of the things they are talking about is needing the kind of skills that this place provides. From here you can go on to amazing careers all over the world."
More than 100 employers joined current and past students and staff of South West Durham Training at the event, held on the 50th anniversary of the official launch of the centre by WWII RAF fighter pilot Group Captain Sir Douglas Bader in 1967.

Alumni
SWDT has had more than 10,000 young engineers through its doors over its 53 year history, many of whom work in senior positions as far afield as Australia, the US, China and Dubai.

Notable former apprentices include:
Stewart Wingate, CEO, Gatwick Airport
Mike Matthews MBE, former MD of Nifco UK
Jim Moir (Vic Reeves), actor, comedian, artist
Stuart Bunce, Group Vice President of Operations, Chiaphua, Hong Kong
Jonathon White, Executive Director, Cummins, Inc, Indiana, USA
Caraline Robinson, Operations Director, Husqvarna UK
Colin Thirlaway, Global Product Compliance Leader, Stanley Black & Decker
If you served your time at SWDT we would love to hear from you about your memories and stories please contact: marketing@bacoll.ac.uk

Employers we work with today
Today SWDT works with major employers across the North-East, including Hitachi Rail, GSK, Husqvarna, 3M, CAW Ingredients Limited, Roman Showers and car parts maker Nifco in Stockton.
Apprenticeship packages and commercial programmes are tailored to the demands of these and other local employers, with training offered from Level 1, 2 and 3 through to higher education provision at Level 4 and 5. There are also ambitious plans to increase both the range of provision offered and learner numbers over the next few years to help local employers tackle talent gaps.

For more information about apprenticeship training, workforce development and industry and commercial training please contact: richard.wright@bacoll.ac.uk