Higher Education
---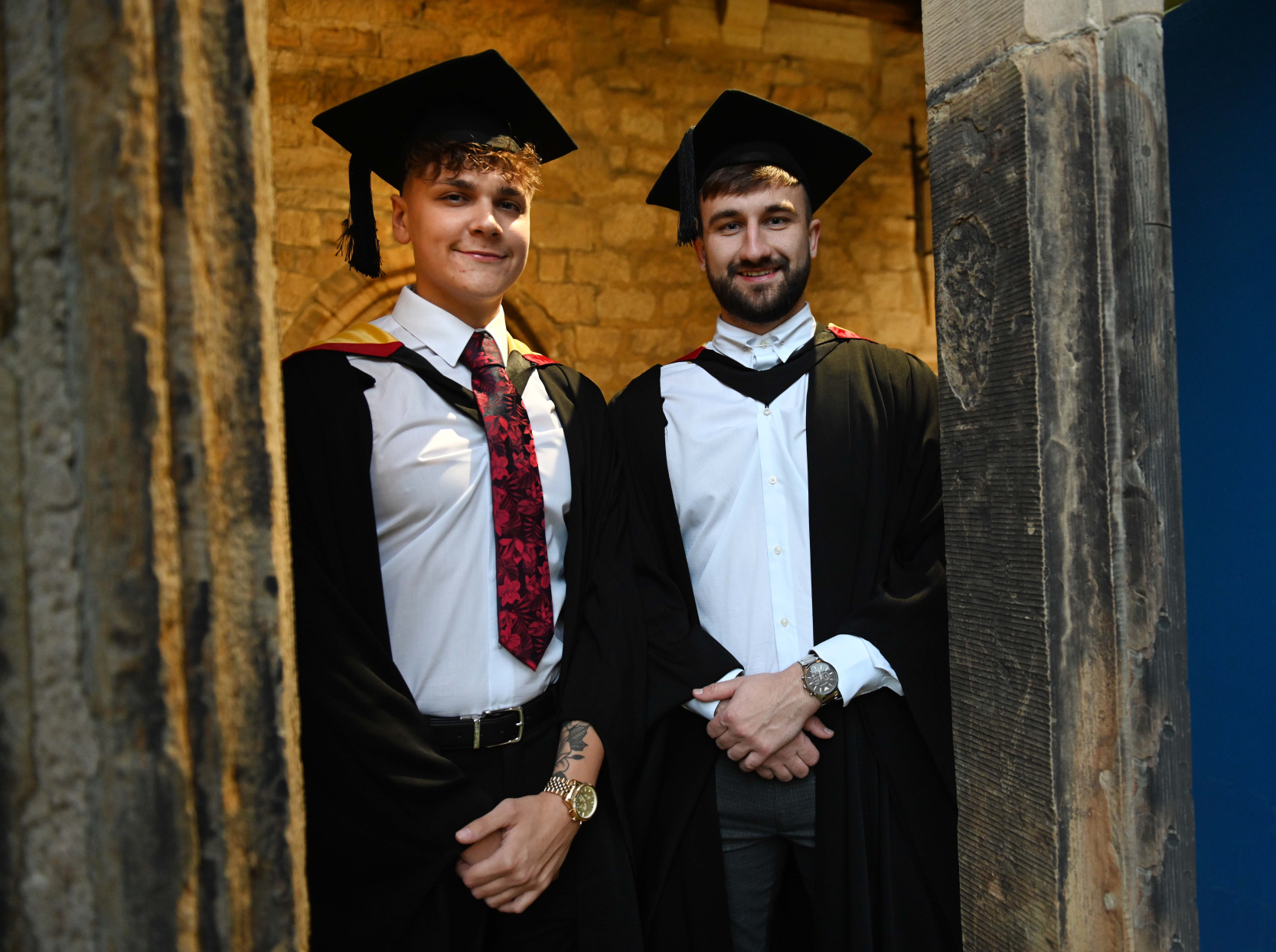 HNC graduates James Garland (left) and Macaulay Shaw picked up their scrolls at our annual graduation ceremony at Durham Cathedral in October 2023.
They were among more than 100 Bishop Auckland College Group students who passed their higher education programmes last summer, including HNCs, HNDs, Diplomas, Foundation Degrees, Honours Degrees and teacher training qualifications.

James, 23, from Shildon, was recruited by global pharmaceutical giant GSK as an engineering technician at its Barnard Castle plant after passing his HNC with us.
He said: "I enjoyed the course; the tutors made it enjoyable despite me being much more of a practical-minded person as opposed to classroom-based. Passing this course has allowed me to become an engineering technician at GSK."

Macaulay added: "I had a general interest in engineering, applied for HNC in Engineering, and the company who I working for prior paid for it all. I would recommend the HNC in Engineering to anyone who has a general interest in engineering."


Meet our current HNC students
"I would definitely recommend going into engineering to anyone who I could – it's opened a lot of doors for me. I currently work at a really good company. I've found myself making a living helping build and check the quality of trains that actually go straight past my house. Thinking back to when I was at school I didn't think I would ever be a part of something as big as this really."
Beth Vasey, Quality Assurance Technician at Hitachi Rail and HNC Engineering student at SWDT
"One of the biggest benefits of attending South West Durham is that a lot of the staff have been in the industry prior, so a lot of the terminology and a lot of the teaching they do is relating to what you do at work and it's easier to transfer those skills into work. A large portion of your course is doing a project which is basically exactly what I do in the workplace.
"Through my apprenticeship I've been eventually able to get into a higher level of education which has been funded by my company whilst also getting a wage at work. Due to my employer completely funding the course it's been a real benefit to me. I haven't had to go to university, I haven't had to get a student loan so I've got nothing to pay back in the future."
Noah Ellis, Project Engineer at Technimark and HNC Engineering student
"The highlight of my career was going to the Lumo launch, which was the launch of a brand new train that we'd built at the factory. One of the benefits of my apprenticeship is that I'll be gaining a Level 4 qualification in mechanical engineering. It will enable me to progress with my career, potentially up to a higher job role within the company."
Phoebe Ellis, Quality Technician at Hitachi and HNC Engineering student



HNC and HND courses
Students can choose from both HNC (Higher National Certificate) and HND (Higher National Diploma) engineering qualifications at SWDT. Both HNC and HND are two year part-time courses totalling four years of study.
These Level 4 and Level 5 qualifications are equal to the first and second years of university respectively. After studying for a HND, students can 'top-up' their qualification for a third year at a range of local and national universities to be awarded a full degree.
Find out more information on the HNC and HND courses and apply here.