Former star apprentice returns to teach at college training centre
A former award-winning apprentice has returned to her former college to pass on 25 years of industry experience to young engineers.
---
Rachael Graves was South West Durham Training's Engineering Apprentice of the Year back in 1997, the first of a number of awards she received during her early career.
Others included winning the Institution of Engineering and Technology's Women's Engineering Society Award in 2005.
Her impressive CV includes three-and-a-half years at 3M, nine years at Royal Mail in a number of engineering management positions and six years at Heathrow Airport which included being part of the Baggage Engineering Team during the 2012 Olympics and Paralympics.
Most recently she was Engineering Team Leader & Apprentice Leader at pharmaceutical multinational GSK in Barnard Castle, looking after their Engineering Apprentices.
Now Rachael has been named as SWDT's new Vocational Skills Coach, a role which will see her working with local employers to support the centre's apprentices.
The 43-year-old, of Cleatlam, said she is looking forward to passing on her experience to today's trainees. She said: "I found engineering because I had a love of solving problems. I looked at life and thought about potential solutions, not issues - my brain is just wired that way.
"I have also found that I enjoy helping people. I have such passion and joy from passing on what I know and have gained through my career. I want others to thrive and grow with this knowledge.
"I now sit opposite the mentor I had while I was here at South West Durham Training, Paul Daniel. It's wonderful to look over the desk each day and remember all of the spectacular things he taught me. Not just about engineering, but also about being a great person - I respect him so much!"
And having dropped out of A Levels herself aged 17 because she'd had enough of school, Rachael had a message for other young people thinking about engineering: "If you are a bit unsure, or just thinking about your career options, please come and have a chat with us - the team at South West Durham Training are amazing and will help guide you and talk you through various opportunities."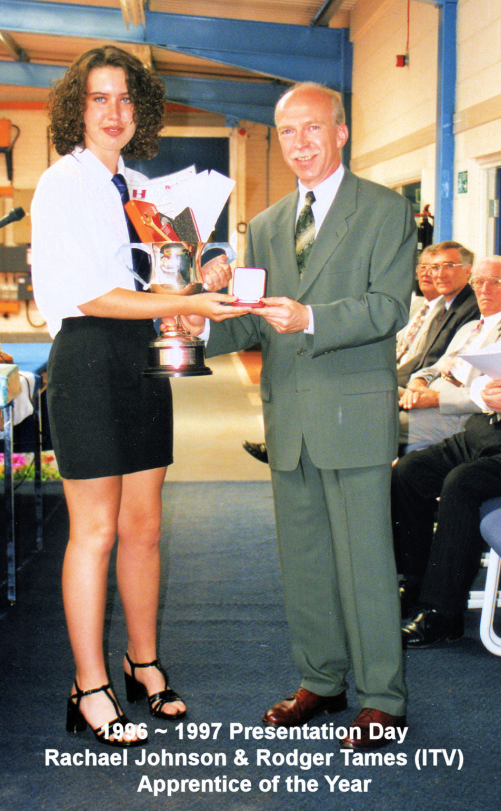 South West Durham Training is currently taking applications for full time courses in electrical installation, advanced manufacturing engineering and plumbing starting in September. It is also promoting a number of apprenticeship opportunities being offered by employers partners includng GSK in Barnard Castle which has advanced engineering and advanced manufacturing vacancies for this September.
Photos: Returning former apprentice Rachael Graves with GSK apprentices Libbi Wheeler, 17, of West Cornforth, and Aidan Dunn, 16, of Evenwood, and Rachael receiving her award in 1997 from TV presenter Roger Tames

South West Durham Training is part of the Bishop Auckland College Group.