GSK visit gives T-Level students prescription for career success
Students on South West Durham Training's first ever T-Level engineering programme got a taste of a potential future career during a tour of GlaxoSmithKline's Barnard Castle facility.
---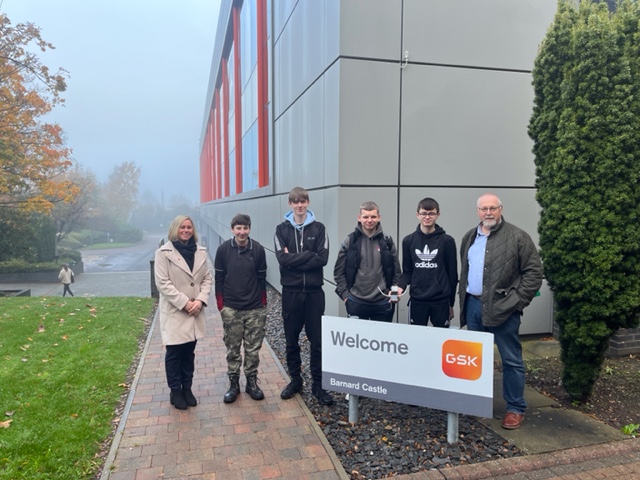 The young engineers were shown around the maintenance workshop and were shown aseptic filling machinery and packing lines where the labelling, boxing and palletisation of products takes place.

They also watched an electronic, driverless fork lift truck transporting raw materials from the warehouse to a production facility at the plant, which employs around 1,000 people. The medicines it produces include remedies for cold sores, asthma and eczema as well as new innovative life changing medicines.
GSK's Early Talent Lead Helen Smith then delivered a presentation in the boardroom about career opportunities with the global biopharmaceutical giant.
She told the students: "We offer many different types of apprenticeships, internships and placements. We are excited that the T-Level qualification will offer potential GSK employees a broad understanding of the engineering field, backed up by practical skills and valid, useful industrial experience."
SWDT's Senior Business Development Advisor Kirsty Lewton and Placement Officer Kevin Thrower accompanied the students on the visit, which was supported by GSK's SWDT apprentices Elsa Butler and Chloe Wymer who gave an overview of a typical day working at the site.
This was the first in a number of industry visits for students on the T-Level in Maintenance, Installation and Repair. Others will include trips to Thorn Lighting in Spennymoor, the EDF nuclear power station at Hartlepool, the Spadeadam destructive testing facility in Cumbria and a four day trip to Stuttgart in Germany to visit the Porsche and Mercedes museums.
They will be accompanied on each by their mascot Mini Martin which the students designed and built themselves from scrap materials prior to the GSK visit.
• For more information on the Level 3 T-Level in Maintenance, Installation and Repair and other engineering and plumbing courses, register for SWDT's next open event on Thursday November 30 from 5pm to 7pm here: https://swdt.co.uk/Events/openeventoctober23
Pictured at the GSK visit are (left to right): Senior Business Development Advisor Kirsty Lewton, T-Level students Vanessa Hodgson, Luke Anderson, Jacob Norman and James Henry and Placement Officer Kevin Thrower.